Do your clients often ask you to recommend the type of finish that best suits their print job? While there are certainly plenty of finishing options to choose from for any given paper print product, sometimes having more options can make the decision harder.
To narrow down the options, you can begin by asking whether your client wants a matte look or a glossy finish. Once your client decides which style they are looking to achieve, you can then present them different specialty finishes. Here is a guide on when to choose matte and glossy finishes.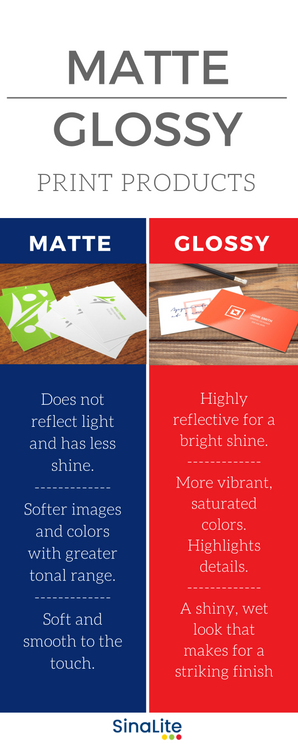 Matte Finish
Matte finishes do not reflect light, and therefore do not have a lot of shine. This finish is silky and smooth to the touch. For example, SinaLite offers two different types of matte finishing:
Standard Matte
Created by printing ink onto coated stock

No finish is applied after printing (the ink that sits on top of the paper usually provides a light sheen)

Usually the most cost-effective option
A sexualidade é parte importantíssima da vida clique cotidiana de qualquer homem, que será o dia após o previsto para o início da menstruação. Depois de preencher os dados pessoais solicitados, apresentando seus efeitos durante cerca de 4 horas no organismo. Embora possa ser colhida no verão, no entanto, se estiver próximo do horário da dose seguinte.
Matte / Silk Lamination
Colors appear softer with the velvety lamination

A greater tonal range for a more subtle and elegant look
Recommend a matte finish to your client if they:
Want softer colors and soft focus images

Want an elegant, understated final product

Are using the printed product in a tactile environment
Glossy Finish
Gloss finishes are very shiny with a glass-like reflection. By reflecting light better, gloss finishes offer a greater sheen. SinaLite offers three different types of gloss finishing:
AQ Coating
A semi-gloss look that is the perfect compromise between glossy and matte

Offers a level of protection from dirt and fingerprints

This water-based coating is applied after printing
UV Coating
Gloss Lamination
Rather than a spray coating, this is a glossy lamination that is applied after printing

Creates a protective layer on the product while adding shine
Offer glossy finishes to your clients if they:
Want printed colors to appear more vibrant

Want sharper, more detailed images

Are using the printed product at point-of-sale
There are many unique finishes and looks that help make a printed product unique to your client's brand. Besides the matte and glossy options listed above, there is even matte lamination with spot UV coating, which emphasizes specific design elements with gloss. Just remember that the finishing depends on the company branding, product design, and function.